Horse Side Vet Guide® was originally created as a mobile application. We thought pretty hard about how to provide you with helpful information "horse side" – literally while you are standing next to your horse or out riding in the arena, on the trail, or at an event. Once downloaded to a mobile device, most of the content in HSVG is available to you without cell service or an Internet connection.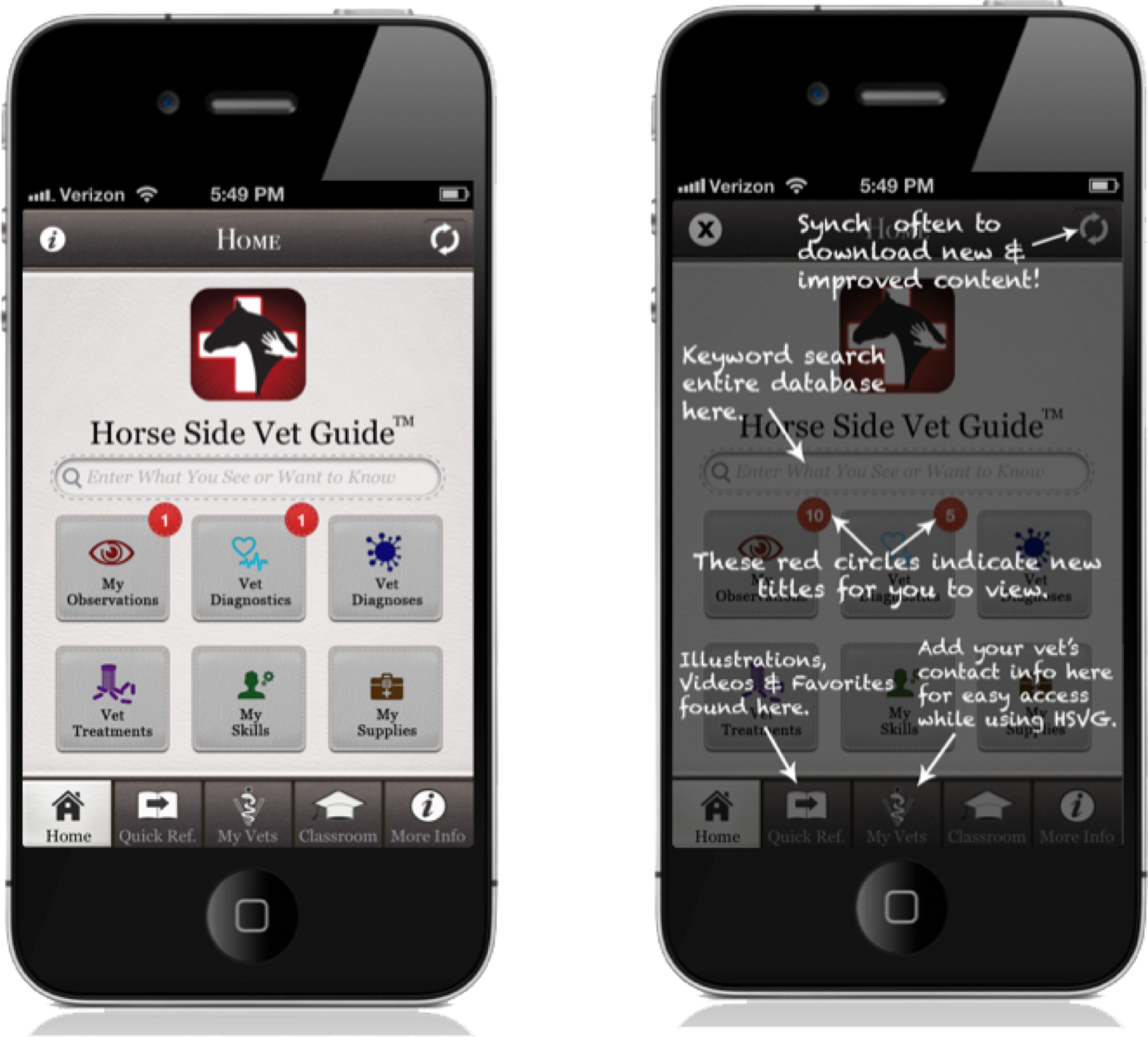 Very helpful and full of useful information. Well worth it! Can save you and your horse. Info on what to do (and not to do) in any medical situation, what info to prepare for the vet, with detailed explanations and user friendly tabs. Up to date information with references. Clear and concise, easy read. Great tool for any horse owner! - iTunes Review (U.S.)

Has some easy ways to see real time what you need or need to do for your equine. Even searching for questions on equine health, a must have for equine owners. - iTunes Review (U.S.)

My vet recommended it and it's great. Will recommend to all my friends. – iTunes Review (U.S.)

Super VERY helpful app for horse owners! - This app has come in handy for me several times. It not only explains things well, it gives you good solutions to try and how you should present it to your vet if necessary. It is VERY easy to navigate and has been helpful as a problem solver as well. I highly recommend every horse owner and horse handler to have this on your phone- it is a life saver!!!!!! - iTunes Review (U.S.)

Best app to have at the barn - period. – My vet told me about this app and I love love love it. I love the depth and breadth of content and how its constantly growing with new info. Of course, the observation list is a bit frightening! Cross my fingers and hope my horse stays healthy! – iTunes Review (U.S.)

Awesome Knowledge Base on any Platform! – Had this app on my iPad since it came out. Just got the Android version for my phone. It's just awesome! Its a must have when caring for horses… It's not a static app you buy and are stuck with - this thriving knowledge base for all parts of horse health grows almost daily. Beats the heck out of "Dr. Google" because the info is reviewed by a vet and reliable... – Google Play Review (U.S.)

A must have - This is a great reference app. I work full time at a large horse farm and now I won't go to work without my iPod touch. This app provides in depth information about care, handling, emergencies etc. I also love how you can type in the symptom you're observing in a horse and it will give you a list of possible ailments. - iTunes Review (Canada)

Great APP! - Love this app! Very informative and they are always updating it with new information! – iTunes Review (U.S.)

Brilliant app!!- Should be quite useful and very appreciated by my vet! Will share this with all my horse buddys! - iTunes Review (U.S.)
Exclusive Features – Constantly Updated
We're hard at work improving both our website and mobile app with even more useful features for horse owners. Keep an eye out for these upcoming tools and check out these exclusive app features.