All horse owners should have an equine first aid kit & know how to use all of the supplies. At least twice yearly, examine & replenish outdated supplies. Store your first aid kit in your home or temperature controlled space. Leaving it in a trailer or uninsulated tack room will quickly degrade the supplies. Talk to your veterinarian about customizing your first-aid kit for your horse's particular needs.
.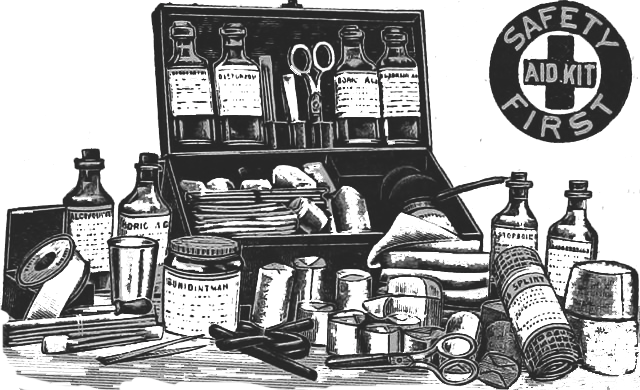 FUNDAMENTALS
BASIC EQUIPMENT
Alcohol Wipes (10)

Spray Bottle for Water (1)

Electrolytes (paste or powder)
SECONDARY EQUIPMENT
Cotton, Rolled Sheets, Leg Cottons (2)

Standing Wrap & Quilt or Shipping Boots

Easy Boot or Equivalent in Appropriate Size

Baby Diapers (2)  (size 4 to 6 depending on hoof size)

Triple Antibiotic Ointment (1 tube)

Extra Halter & Lead Rope

Lariat

Syringe 35 cc  (1)

Syringe 12cc (3)

Syringe 3 cc (3)

Syringe 3cc with 20gauge needle (3)

Syringe – 60 cc cath tip (2)

Needles – 18gauge –  x 1.5″ (4)

Needles – 20 gauge –  x1.5″ (4)

Eye Wash, Saline (1 bottle)

Opthalmic Ointment or Drops (1 bottle or tube)

Magnesium Sulfate, Epsom Salts (1 package)

Duct Tape (1 roll)

Clippers with #40 Blade (good quality)

Shoe Puller

Crease Nail Puller

Hoof Pick

Hoof Knife

Hoof File, Rasp

Clinch Cutters

Farrier's Driving Hammer

Collapsible Water Bucket

Ice Wraps

Twitch
.
.
Talk to your veterinarian about dispensing a few medicines that you may use in an emergency.  In most, if not all states, a veterinarian cannot legally dispense prescription items without a valid Veterinary Client Patient Relationship (VCPR).  See AVMA VCPR.
In my practice, I often dispense prescription items to my clients under the condition that they call me first to discuss the situation, before they medicate their horse.  Likewise, these medicines are only of value if you understand their benefits and limitations, and you are able to competently give them to your horse – orally or im (intramuscular injection).
•    Flunixin Meglumine (Banamine®) (injectable or paste)
•    Phenylbutazone, Bute Paste (1)
•    Trimethoprim-Sulfa Tablets SMZ-TMP in small container (75#)

We hope you find this list helpful. – Dr. Thal