Horse Side Vet Guide® was originally created as a mobile application.  We thought pretty hard about how to provide you with helpful information "horse side" – literally while you are standing next to your horse or out riding in the arena, on the trail, or at an event. Once downloaded to a mobile device, most of the content in HSVG is available to you without cell service or an Internet connection.
 Video Tutorial No. 1 – Home Screen, Basic Features, Fast Facts
 Video Tutorial No. 2 – HSVG in Real Life
 Video Tutorial No. 3 – Search Bar & Quick Reference
Very helpful and full of useful information.  Well worth it! Can save you and your horse. Info on what to do (and not to do) in any medical situation, what info to prepare for the vet, with detailed explanations and user friendly tabs. Up to date information with references. Clear and concise, easy read. Great tool for any horse owner!  - iTunes Review (U.S.)
Has some easy ways to see real time what you need or need to do for your equine. Even searching for questions on equine health, a must have for equine owners. - iTunes Review (U.S.)
My vet recommended it and it's great. Will recommend to all my friends. - iTunes Review (U.S.)
Super VERY helpful app for horse owners! - This app has come in handy for me several times. It not only explains things well, it gives you good solutions to try and how you should present it to your vet if necessary.  It is VERY easy to navigate and has been helpful as a problem solver as well.  I highly recommend every horse owner and horse handler to have this on your phone- it is a life saver!!!!!! - iTunes Review (U.S.)

Best app to have at the barn - period.  My vet told me about this app and I love love love it.  I love the depth and breadth of content and how its constantly growing with new info.  Of course, the observation list is a bit frightening!  Cross my fingers and hope my horse stays healthy!  - iTunes Review (U.S.)
Awesome Knowledge Base on any Platform! - Had this app on my iPad since it came out. Just got the Android version for my phone.  It's just awesome! Its a must have when caring for horses… It's not a static app you buy and are stuck with - this thriving knowledge base for all parts of horse health grows almost daily.  Beats the heck out of "Dr. Google" because the info is reviewed by a vet and reliable … - Google Play Review (U.S.)
A must have - This is a great reference app.  I work full time at a large horse farm and now I won't go to work without my iPod touch. This app provides in depth information about care, handling, emergencies etc. I also love how you can type in the symptom you're observing in a horse and it will give you a list of possible ailments. - iTunes Review (Canada)
 Great APP! - Love this app! Very informative and they are always updating it with new information! - iTunes Review (U.S.)
Horse Side Vet Guide - Awesome little app! I have learned so much just reading through the different sections. This is a great item for us horse owners to have with us at all times. You don't even need internet so it will be extremely handy for mountain trail rides. Encyclopaedic in content, plus great videos to see exactly how to perform many procedures and all presented professionally in plain language. I'm telling all my horse friends to get it! It's the best $5 you will ever spend on your horse … it might even save his life one day! - iTunes Review (Canada)

Brilliant app!! - Should be quite useful and very appreciated by my vet! Will share this with all my horse buddys! -iTunes Review (U.S.)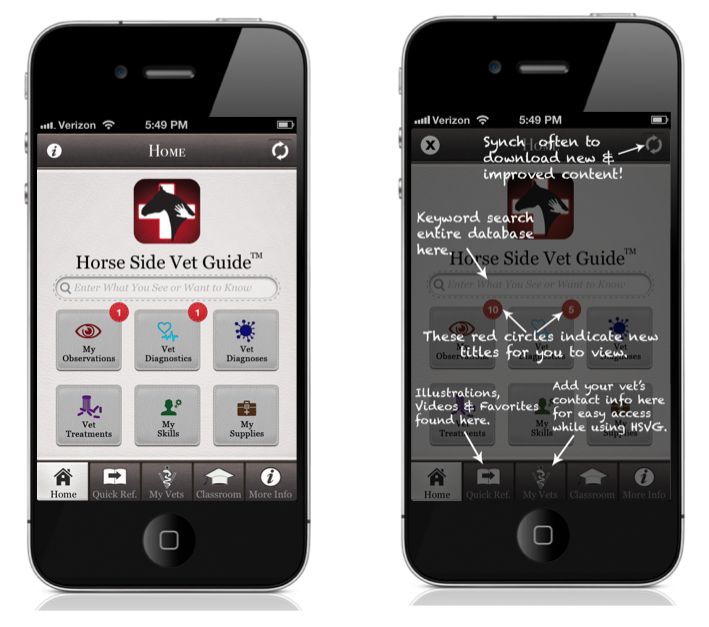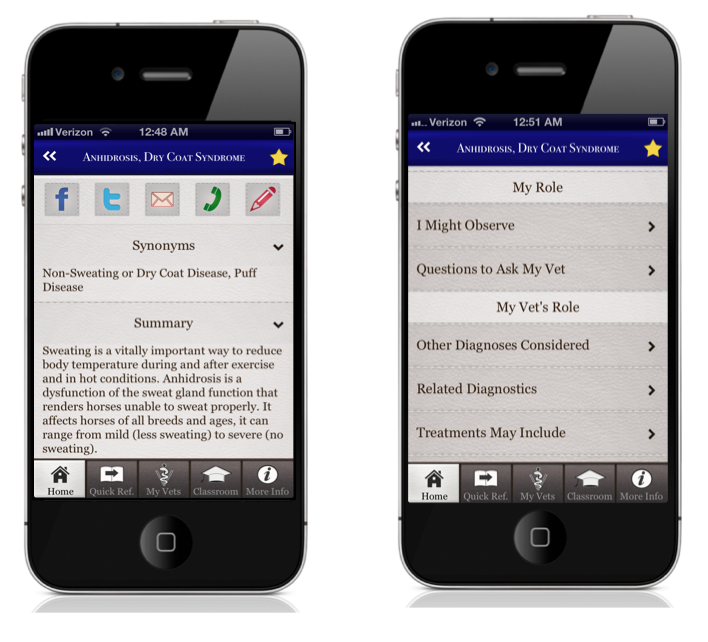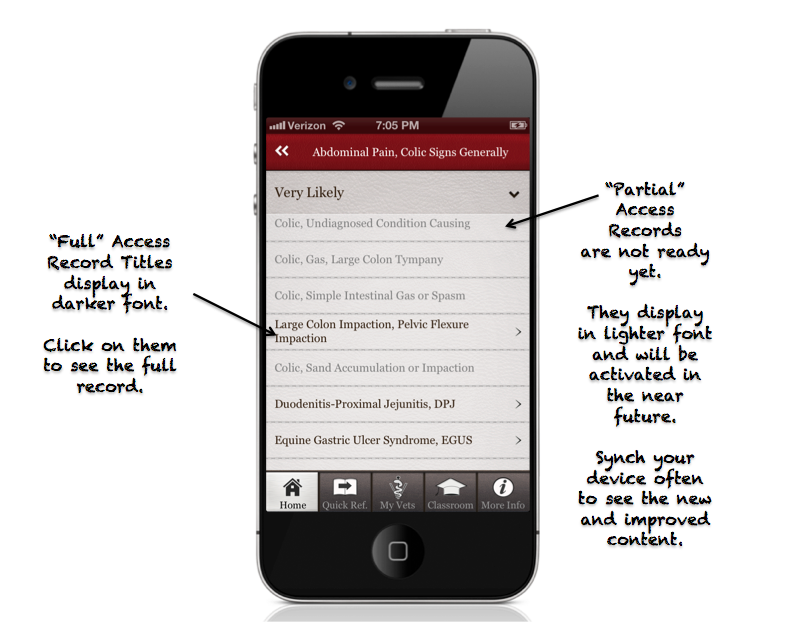 Why so complicated? – We could have waited (and waited… and waited…) to release HSVG after we completed every single record, from the most common to the most obscure equine health issue.  Instead, we give you a work in progress. Don't worry, there is already a TON of helpful information in this app right now.
After downloading the HSVG mobile app, we suggest you do the following:
Synchronization: HSVG is a constantly expanding database of information. With Version 2.0 (Apple & Android) each time you open up this application and have a good Internet connection, the app downloads new and improved content.  You can also press on the synchronization button in the upper right hand corner of the home screen to download the latest and greatest. We have already added over 300 new records to HSVG since launch – many of which were requested by horse owners like you!
My Vets: You can find "full access" records with a keyword search, in the alphabetical browse lists (app only), and hyperlinked inside other records. Incomplete (or "partial access") records are listed inside full access records, with no hyperlink. Many other records are hidden from view, and will be available later.: Enter the contact information for your veterinarians and designate one as your primary veterinarian, so that you can easily contact them while using HSVG.
My Observations: The starting point for addressing any equine healthcare issue is your observation – what do you see? Set aside some time to search or browse the list of observations contained in HSVG. The better observer you are, the better for your horse and your relationship with your equine veterinarian.
My Skills: HSVG contains many skills that you should learn and practice when your horse is healthy. Repetition leads to mastery. If you have any questions about these skills please contact your equine veterinarian.
The Whole Horse Exam™ (WHE): The WHE is a collection of skills that all horse owners and equine professionals should be able to perform. These skills include taking basic vital signs and assessing other indicators of health. Set aside some time to master these skills.
My Notes: Each record within the 6 primary tables (and Terms & Topics) contains a field for customized notes. This is a good place to enter your vet's unique perspective on an equine healthcare issue, as well as your own personal notes.  In addition, any record that you add a note to automatically becomes a personal favorite, easily retrieved in the Quick Reference section.
Quick Reference & Favorites: This section of the application contains important information you may need in an emergency, including basic vitals, anatomical diagrams and videos.  You can add records to this section by designating them as a personal favorite by pressing on the ★ star in any individual record or by adding a  note to any record.
Share: Please share individual records with your veterinarian, friends and family via Facebook, Twitter or e-mail. Good communication about equine healthcare issues is an important starting point for making better decisions about your horse's health.
First Aid Kit: We suggest you purchase (or update) a basic equine first aid kit. Many horse owners have them, but don't know how to use them. HSVG will teach you how. Your equine vet can help you assemble and customize a first aid kit for your horse. For more information, see our First Aid Kit page.
Note to those of you that live or enjoy your horse in remote areas: All of the text records in HSVG that are downloaded to your device are available to you without an Internet connection.  Important videos and media are also available to you without an Internet connection in the QUICK REFERENCE section.  However in attempt to keep the size of this app reasonable, access to other videos, media, and outside resources do require an Internet connection.
A few reviews we have received on iTunes & Google Play
Horse Side Vet Guide – Awesome little app! I have learned so much just reading through the different sections. This is a great item for us horse owners to have with us at all times. You don't even need internet so it will be extremely handy for mountain trail rides. Encyclopaedic in content, plus great videos to see exactly how to perform many procedures and all presented professionally in plain language. I'm telling all my horse friends to get it! It's the best $5 you will ever spend on your horse … it might even save his life one day! – iTunes Review (Canada)

Brilliant app!!

– Should be quite useful and very appreciated by my vet! Will share this with all my horse buddys! -iTunes Review (U.S.)

Awesome Knowledge Base on any Platform!

– Had this app on my iPad since it came out. Just got the Android version for my phone.  It's just awesome! Its a must have when caring for horses.  Love the way how I can go from Observations to extensive lists of possible causes to check on or search. You don't need to know the medical terms for finding what you need: Searching "watery eye" will give me results for teary, running, draining as well due to the vast number of cross reference key words. It's not a static app you buy and are stuck with – this thriving knowledge base for all parts of horse health grows almost daily.  Beats the heck out of "Dr. Google" because the info is reviewed by a vet and reliable … – Google Play Review (U.S.)

Super VERY helpful app for horse owners!

– This app has come in handy for me several times. It not only explains things well, it gives you good solutions to try and how you should present it to your vet if necessary.  It is VERY easy to navigate and has been helpful as a problem solver as well.  I highly recommend every horse owner and horse handler to have this on your phone- it is a life saver!!!!!! – iTunes Review (U.S.)

A must have – This is a great reference app.

 I work full time at a large horse farm and now I won't go to work without my iPod touch. This app provides in depth information about care, handling, emergencies etc. I also love how you can type in the symptom you're observing in a horse and it will give you a list of possible ailments. – iTunes Review (Canada)

Great APP!

– Love this app! Very informative and they are always updating it with new information! – iTunes Review (U.S.)

Seriously Great App

– Impressed from the get-go. This is a serious piece of software for horse professionals. Take a look at the developers website. They clearly thought allot about how to get this app right. And they did. Kudos. – iTunes Review (U.S.)
*Note: The equine models and anatomic search functionality available on this website is NOT available on the mobile app… not quite yet. It took a lot of hard work to create that functionality and it will take a bit more hard work to figure out how to properly mobilize it for use on a smaller screen.  We are thinking about that mobile update now…